Read about how a circle transforms into a dress and more Jazz Age inspiration in The New Warrior, Part 1 >>
"Fashion fades; only style remains the same," Coco Chanel famously said. When I looked to the 1920s for inspiration for the M2057 spring collection, I always had that in my head. No literal trends, just the ideas and essence behind them. Creativity, liberty, simplicity—these concepts led to new shapes that transformed womenswear.
Rebellion, too. Delicateness and lightness were still able to convey power and strength. We'd see a greater turn to menswear and angular silhouettes in the following decades, but I wanted to tap into this fluidity as a new marker for what a modern "warrior woman" could wear. Soft doesn't have to mean fragile.
Queen of Jazz and master of improvisation Ella Fitzgerald was a natural muse. The ELLA dress is an organic progression from the PANEL dress from last fall's M2057 GANG collection, but it gelled nicely with this exploration of new shapes. The revealed seams remain, but here, the neckline opens up and the skirt flows out from the waist, for a deconstructed, sculptural look that's also liberating and feminine.

I continued working with revealed seams for the GARBO coat. Greta Garbo is famous, of course, for her androgynous fashion choices—shirts and jackets and—gasp—pants. "I don't want to be a silly temptress. I cannot see any sense in getting dressed up and doing nothing but tempting men in pictures," she said. I love how she wore what she wanted to, what made her feel comfortable and still sexy in an extremely unconventional way for the time, and again took concepts of femininity to a new place. I had to name a jacket after her!


The Garbo coat has a visible architecture to it and may, on the surface, seem like an unlikely choice for an everyday coat, but its easy, linear fit makes it exactly that.
The revealed seams appear again in the ZELDA halter, a playful piece inspired by the exuberant and fun-loving Zelda Fitzgerald, and in the NORMA, a nod to what I imagined flappers might love to wear today. The architectural lines of the seams bely this little skirt's swing and movement, with reverse pleats creating geometric three dimensional shapes toward the hem.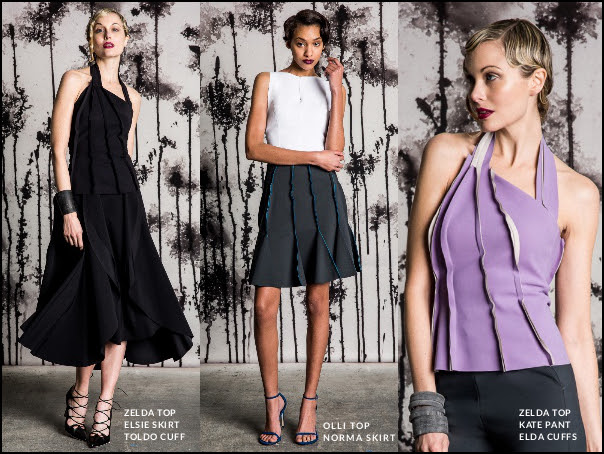 Returning to Coco, I recently had a friend attend an exhibition about her, and I was surprised by my friend's ambivalence to the classic Chanel collections. Sure, my opinion may be tainted—it's in the bylaws that we fashion designers worship at the altar of OG Chanel—but really? She wasn't the least impressed with those fabrics, those shapes, or that construction. Her complaint was that we are still wearing all those shapes, that she didn't feel like she saw anything new.
That struck me so forcefully, that we forget that Chanel and all these other women post-WWI completely rewrote the rule book on what women could wear, and this went hand-in-hand with the ideas behind what women could be. We take it for granted now, but when was the last time you had to strap on your corset and bustle before leaving the house? Those innovations and freedoms of spirit shaped the 20th century, sometimes quite literally, and empowered women like myself to find and express our own creativity.
What does the warrior woman look like? Whatever she wants.